Kerala is one of the best places in India and also a good place for some Things to buy in Kerala. It is a state which is located on the southwestern coast of Malabar in India. 
It has a large range of fauna and flora. It's the most visited place and tourist spot in India. If going on vacation in Kerala shopping is a must. 
There're several things we can purchase in Kerala but a few exceptions and highly famous. It has martial arts and several dance forms which entertain every tourist. Here are some of the Things to buy in Kerala.
Spices
As the tantalizing aroma of spices teases your nose in regions like Kumily, Periyar, and Thekkady, it is very hard to pass up a chance to pick up some freshly harvested nutmeg, black pepper, cloves, and cardamom.
These are the best purchased directly from a spice plant, where you can also get a grand tour and be educated on the farming techniques. Though, there're plenty of local stores around that carry these locally grown and fresh spices.
Tea and Coffee
If you love your morning, brew then this place has something special in store for you! Stock up on the supply of coffee and tea when visiting the hilly areas of Kerala. You can head to any of the factories around the area and be privy to the production and cultivation of a huge range of coffee and teas. While here, savor the wonderful view in and around the plantation.
Coir Handicrafts
Kerala is the best place for its eco-friendliness, which also expands to its amazing handicrafts. Made from coconuts husk and coil plays a major part in Kerala's cottage market. Pick up from a wide range of colorful coasters, coir mats, and several other home decor accessories.
Shell handmade Showpieces 
Once utilized as trading money, shell can be spotted all over Kerala. Pickup manmade keepsakes that include showpieces, clothing, and even jewelry. A bigger conch makes for a great coffee table decoration or a paper weight.
Kathakali Masks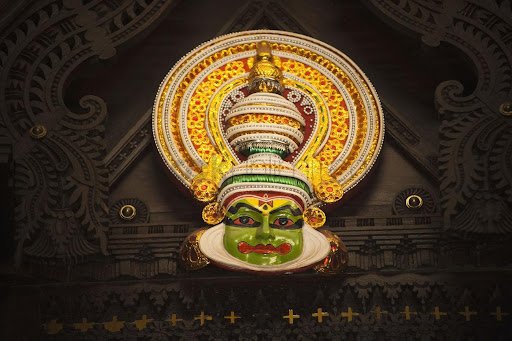 The Kathakali dance form created in Kerala and flamboyant spectacle is part of each traditional celebration. Combining music, dance, and theaters, this classic Kathakali dance is marked with great performers adorning ornate dresses and colorful face paints, akin to Kathakali Masks. These make for better wall displays and serve as a great reminder of your time in Kerala.
Nettipattam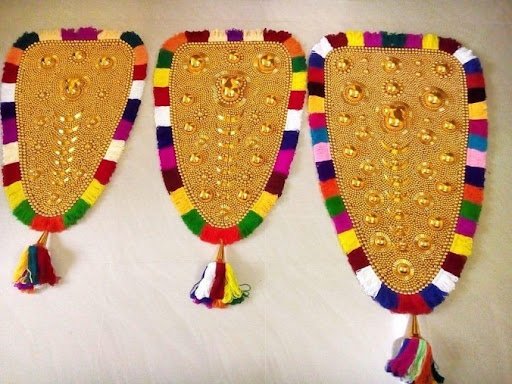 You have seen them on elephants but possibly did not know what they are called. Believed to bring prosperity and peace, a Nettipattam is the elaborate golden dead covering that's draped on elephants during some religious events and local wedding functions. Buy it a small version and mount it in your living room design at home.
Kasavu Mundu
A sign of charm appeal, and normally worn throughout ceremonies, it is Kerala's conventional cotton fabric with a beautiful gold color Zari border. Just pick up a Dhoti or Handloom Sari from the huge variety available. In keeping with changing fashions styles, you can find Kasavu Mundu with colorful borders.
Cashews
The sea side port of Kollam is famous as the Cashew capital, producing almost 80 percent of  India's export quality. Fried, Roasted, plain, salted… anyone you like it, you are guaranteed the finest and freshest quality in the region. Even if you do not end up in Kollam, you will find cashews almost everywhere in Kerala.
Mural Paintings
Colorful frescos depicting mythological scenes are trademarks of these mural paintings of Kerala. Ancient art pieces dating back to the 12th century have been found on the walls of churches and temples in Kerala. 
These manmade masterpieces show the skills and great talents of local artisans and are made using some natural pigments and great vegetable colors.
Banana Chips
Banana Chips are the most well-known items of Kerala. These golden color crunchy chips are made of green banana fried in oil got from coconut. They're also of 2 types, one is made from raw banana and the other one is made from seasoned plantain.
READ NEXT:  Seven Must Visit Shopping Places in Gujarat
RELATED TOPICS: Shopping Guide