If you live in a house, you have to make it attractive. Whenever a guest comes into your place, your sense of design reflects through it. No one feels happy to go on a rough spot where the arrangement of things is not good. DIY Decor Ideas are wonderful because they can change and adapt to fit any mood.
For providing an aesthetic look to your apartment, several steps are necessary to take. Whether we talk about furniture or pain colors, everything should be fascinating and appeal to viewers' eyes. For this purpose, DIY Décor Ideas play a vital role in styling a home.
If you are unaware of the best home decorating ideas through DIY? You have reached the right destination. This writing guide has compiled excellent design trends for your lovely interior. Therefore, carry on reading to learn more.
Give a Beautiful Look to Front Door 
For putting a first great impression on visitors of your house, make sure to give a glossy hue welcoming look to the front door. Some famous interior designers say that the red door proves heaven for weary adventurous persons.
Furthermore, orange and red colors are also associated with warmth and joy. So, you can choose anyone for door painting.
Next, do not choose the screening panel on the door. However, you can pick up a storm door having full-length glass on itself.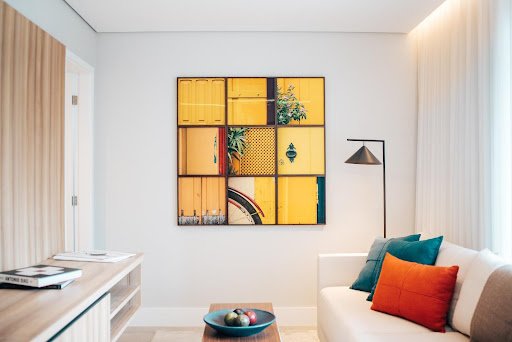 If you want to give a beautiful charm to home walls, always choose beige or light gray colors to paint. The reason is that neutral colors have the potential to look ascetic whatever you put on the wall, like big glass or sceneries.
Sometimes, people have small rooms and paint them differently. It is not a good idea. We recommend you paint both chambers with the same paint. In this way, first of all, you get the flexibility to put any kind of accessories on it. Further, your rooms also look more prominent with this basic coloring technique.
In addition, for creating a dual-color wall, you can also blend two colors on the walls. You can also utilize moving paint strips to present crazy art on the wall.
After completing the wall painting, it's time to decorate it with a beautiful canvas. This incredible DIY idea is suitable for every person because anyone can make handwritten canvas at the ease of home for walls.
For this purpose, you have to buy only a plain canvas, some paint, and a paintbrush. Now, you have the freedom to make art or fill solid background colors. Another option to avail is that write a favorite quotation on canvas and hang it on the wall.
Moreover, you can explore canvas painting from the internet. Then, select any artwork and tend to make it on the canvas at your place.
Hang Mirror in every Room 
A mirror is a thing that bounces light in the room. Therefore, at least one mirror is crucial to give a brighter look to your place. As a result, make sure to hang one mirror in every room of your beautiful house.
Moreover, do not forget to place a mirror on the wrong side. The reason is that an incorrect hanging can spoil the beauty and lighting of the room entirely. We suggest placing a mirror perpendicular to the room windows instead of directly across the light from them.
Another critical point is choosing a mirror of the right size because a vast and tiny mirror is sometimes unsuitable. So, pick a moderate size when you buy a mirror.
Placing some books in the room is always a fantastic idea to give a gorgeous look to your room. For achieving this goal, you do not need to have a heavy budget. With a minor amount of money, you can perfectly prepare bookshelves in your home décor ideas.
For example, order an efficient carpenter to make wood bookshelves at your place. On the other hand, you can also purchase a ready-made bookshelf from the market. Then, hang it on the wall with the help of screws.
Next, you can also pick any specific shelf color that suits the wall. Further, select the best size according to the size of the room.
A wide variety of furniture is present in this modern world. However, the choice of persons varies. Someone likes an electric interior style. On the contrary, others love to give a minimalistic look to the room.
Whatever style you pick, furniture style will also depend upon it. Consequently, you require to research your favorite design of furniture deeply. After conducting deep research, go to market and purchase the best furniture style.
Further, the setting of furniture is also essential. For instance, a living room sofa and table put in the U shape helps people communicate.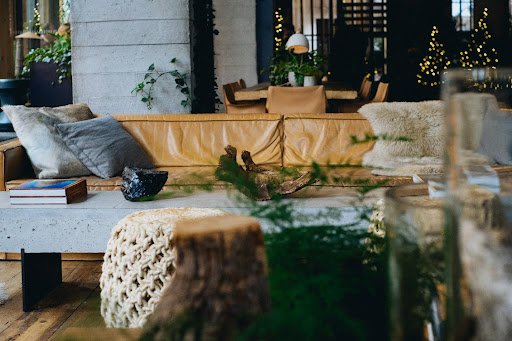 No doubt, green things especially plants, endeavor coldness and refreshment to the eyes. Therefore, you must place some green plants or trees at your place. This step will help decorate your spot and keep you healthy through its freshness.
First of all, you can place some green home décor ideas at the house entrance. Next, you can put them in the living room. The pro advice is that always keep them where they can take sunshine without any hindrance.
Additionally, you have an option to prepare a small lawn in your house where you can enjoy your evening meals very aesthetically.
Summing Up 
In conclusion, home décor ideas have the potential to give a new look to your house. Whenever any person comes to your place, he will not go without praising your sense of style.
Another significant advantage of decorating the house is that if you want to sell your home, you can grab tremendous money from the buyer by impressing him from the look of your house.
Here, we have given a detailed overview of decorating a home. We hope you have entertained and become efficient in designing your place aesthetically.
Now it's time to buy accessories and decorate your home with the assistance of your designing skills.
READ NEXT:4 Beautiful Benefits of Decorating Outdoor Living
RELATED TOPICS: living room interior design