Are you looking for cheap and top-quality shopping areas in Chennai?
Shopping is surely a chore or something that not only the ladies enjoy. As much as males mightn't want to accept it, given some time, they'd buy as much as women!
Too much time and planning go into this endless journey and how about your shop at areas that assist you to save up also? Here are some of the, Best places for shopping in Chennai
If yes, there're several markets, a bazaar that gives extremely fine quality products at reasonable prices, very less than shopping malls and standalone stores would charge you.
So do visit these Best places for shopping in Chennai.
George Town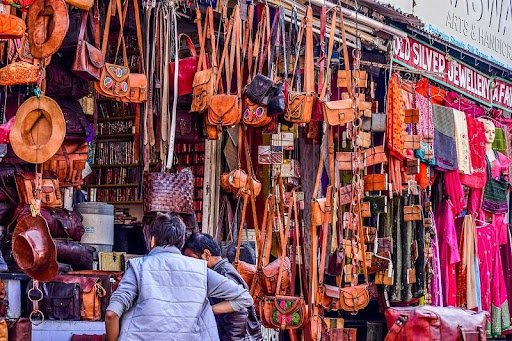 This place is known to show the real temperament of a city like Chennai. Being the oldest populated spot in the city, George Town has now turned out to be quite a chaotic and noisy spot but the vividness of this market makes it must visit shopping spout in the city.
The Burma Bazaar for one is quite an intriguing spot if looking for fine areas to stock up on your  Sari collection.
Ampa Skywalk
Chennai doesn't like to take a back seat when it comes to leading shopping malls as well. This place is a relatively small shopping mall than its rivals, but its prime place in the heart of Chennai has made it the Mall of all.
Having ample outlets of leading brands, this shopping mall sports a seven-screen multiplex, a lavish food court, and a gaming zone. It has been constructed in a place of roughly 3 acres and features a 25-meter long wonderful skywalk that connects the mall with ticket boxes to the theaters.
The food court is big and can accommodate a whopping 650 people at once. The court serves delicious international and local meals for you to feast upon. All the big International and Nation brands can be found here such as Adidas, Lifestyle, Westside, UCB, etc.
Pondy Bazaar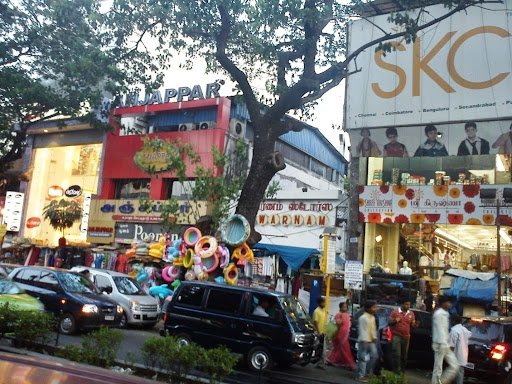 Pondy Bazaar is considered to be the Mecca of shopping places in the city. It's famous for selling high-quality pure Indian dresses like Kurtas, Shalwar Kameez, traditional clothes, dress accessories, modern clothes, shoes, mobile phones, handbags, and many more.
The streets of the bazaar are also crowded with several small and huge shops selling everything you can imagine. 
This market is famous in the city and referred to as the collection spot and you'll see tons of young generation thronging the Pondy Bazaar at all times.
Cotton Street 
If you're looking for some affordable buy in the city, ensure you make a visit to Cotton Street. The self-affecting place has a bunch of stalls that sell elegant cotton clothes at extremely cheap prices.
You can buy cotton kurtas and dupattas and Saris in this street without spending too much.
Pantheon Road
If you are looking for fabric for your boluses, cushion covers, dresses, or upholstery, this place is a must-visit in Chennai. Reams and reams of reasonably priced cotton, semi-raw silk, blended and printed fabric and displayed on the roadside, ideal for matching and mixing.
Unstitched salwar kameez and kurtas are also available at reasonable prices. Occasionally, you can also find sellers selling export rejects – dresses, shirts, skirts, tops, and much more.
Panagal Park
This bazaar is a long line of saris shops and jewelry stores. The beautiful surrounding of the bazaar is a wonderful attraction for visitors.
There're several people visiting this market and these are once drawn to this super comfortable bazaar that provides new charm and latest fashion products at extremely affordable prices.
T.Nagar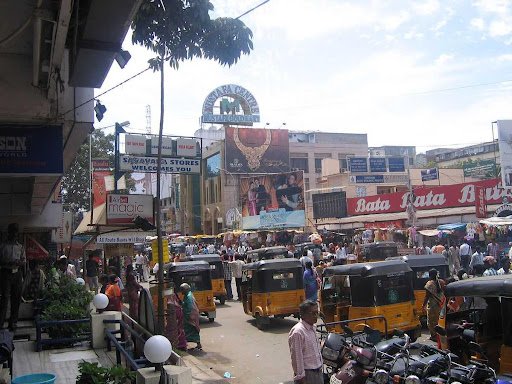 T.Nagar bazaar is another vibrant shopping spot in Chennai that's perfect for ladies' shoppers. Colorful outfits particularly Saris can be found at cheap prices here.
This is the market is famous for selling gold jewelry. If you're not looking to purchase either of the aforementioned items, you can check out hordes of western clothes, Kurtis, and accessories at T. Nagar Market.
READ NEXT: Mumbai Shopping Guide – Seven Hotspots for Shopping in Mumbai
RELATED TOPICS: Shopping Guide