Home is a blessing of God that remains incomplete without a beautiful garden. Most people decorate their interior with aesthetic posters or indoor plants. However, a fascinating outdoor place is also crucial to refresh you with fresh air and eye-catching sceneries.
A flower full of flowers is the best source of fragrance around every house corner. Next, it purifies air quality and helps you to inhale non-polluted air. As a result, you keep healthy. Moreover, the family can enjoy their free time on the lawn. For example, you can enjoy Bar-B-Q night or evening tea by sitting in your garden. Ideas For Garden Design are coming from natural resources.
Are you interested in converting a rough outdoor place into an alluring garden? If your reply is not negated, do not waste time in confusion. Just let your reading this post continue collecting beautiful ideas for garden designing. The Outdoor Gardens are a beautiful and tranquil place to unwind and read a book.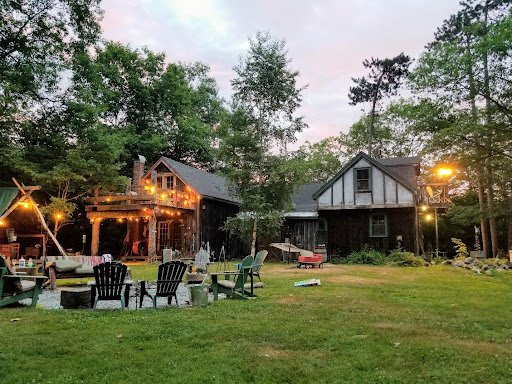 Select Bright colour for Garden Walls 
Draw a boundary of the garden is always the best choice. It enhances the natural look and makes the space spacious through intense hues. Moreover, you can present a cosy and intimate atmosphere by adding bright colours to the lawn walls.
In addition, if you spend much time on the lawn, you can install a white or blackboard on the wall to write their daily ideas. Then, you can also hang paintings having a brilliant colour design on the garden wall. However, do not forget to choose the best paint that does not fade due to heavy sunlight or the rainy season.
Besides plants, growing flower in the shape of a bed is also a trendy phenomenon. Therefore, you must try the style of raising flower beds on your lawn. Their fragrance and colourful design will refresh your mind and provide peace.
For flower beds, we recommend choosing two heights. For example, arrange a flower bed on the raised level and below level after leaving a little space between them. Moreover, you can grow flow around the cascading waterfall in your patio.
Typically, it is not a working idea to sit on the garden's ground because clothes can get stains from the grass. Therefore, we recommend you buy a sitting bench having an appropriate size for your garden. Then install it in the mid of the lawn.
Make sure to pick a design of a bench that looks attractive. Then, grow various green plants around this couch. It will help to create a natural and wild look containing lush greenery. We assure you this setting will provide a soothing experience to your eyes over the years. Outdoor Gardens can help you convert a dull, dusty space into something beautiful.
Create Dramatic View Through Lights 
No doubt, various objects are spotted in the garden. Some people use water showers to enhance the beauty of the lawn. On the contrary, others hang beautiful scenery on the garden wall. Installing little lights to highlight every angle of the yard is an excellent idea.
For this purpose, purchase lights of different sizes and install them. We suggest you install it on the edges of the walls of your patio. In this way, the beauty of the wall will also increase, and your garden look will also become fascinating and brighter.
Utilize Low-Maintenance Plants 
If you like a Mediterranean patio, you must adopt this growing plant style. In it, you do not require to hire a gardener to look after your plants. You can accomplish every task without putting enormous effort into a short time.
Firstly, you do not require to grow grass on the floor when you adopt a chic style. Secondly, you only place rectangular boxes to grow specific plants. They do not need much water and do not comprise heavy bushes or shrubs around themselves. Again, these plants can stay alive for a long time and prove eco-system friendly.
Settle Hammock or Swing Chair 
Whether you are a minor child or a young man, hummock is always a crazy thing that every person's favorite. You can place this recreational object on a particular lawn space to receive a lot of sunshine without any hurdle.
You can get a comfortable sunbath without going to the beach or park by lying or sitting on it. Moreover, you can sleep on this spot in the winter season because it will keep you calm and relaxed by endeavoring warm to yourself.
Placement of Outdoor Kitchen 
Most people want to eat their meals in the winter season in the sunshine. If you belong to this specific category of people, a beautiful garden having an outdoor kitchen is a perfect choice for you. You can place a fridge, oven and a stove in it.
Moreover, it would be best to have plates, utensils, glass, cups, or bowls in the kitchen. Whenever you get any foodstuff in your home, especially in the evening or afternoon, you have all the crucial objects required to eat them on the lawn.
Grow Vegetables in your Garden 
Undoubtedly, vegetables that grow in your own garden are healthier than the market. Therefore, sowing vegetables and fruits on the lawn is the ultimate intelligent decision a garden owner takes that keeps you fresh.
These days, no-dig gardening is trendy. According to research, any housekeeper can grow veggies on your lawn. Therefore, maintain a vegetable box with the flower beds. After reaping, eat these vegetables and fruits. We assure you will never eat this delicious taste of your lawn veggies ever before. These Ideas For Garden Design will help you create a more aesthetic garden for your outdoor place.
Final Thoughts 
In conclusion, you can make a perfect garden at your place without putting in a lot of hard work. However, it would help if you were regular in maintaining a garden efficiently. For example, you have to invest some hours per day to keep your lawn clean and fascinating.  
In this writing piece, we have presented straightforward ideas in front of you to adore your outdoor space. However, before choosing a specific style of outdoor place such as a garden, you have to keep a strict eye on your budget. Then decide according to it.
READ NEXT: Arts And Crafts for Home Gardens – Important Crafting Elements for A Backyard
RELATED TOPICS: garden landscaping