Whenever a person feels exhaustion or boredom, he feels comfortable in his Bed Room Wall Decoration Designs. He rests and enjoys peace at this favourite spot of home. But how will it happen if your bedroom is not given a fascinating look and seems messy?
Of course, it will not attract you, and you'll fail to get calm from your relaxation room. Wall Decoration Designs behind your bed is a beautiful Home Décor Ideas to create a unique and attractive bedroom style. It is not an easy task as we take it. It can even prove daunting.
However, we have researched several ideas for wall Ideas that will spark your creativity and give an aesthetic look to your wall behind the bed.
So let us get started!
One of the easiest ways for a stylish wall is to hang versatile corkboards on it. For this purpose, you can purchase self-adhesive tiles. They will assist you in creating a perfect corkboard size for the bedside wall of your room.
Further, you can design a whole or partial wall with a corkboard. It totally depends on the choice of the bedroom owner what he wants. Besides, hanging snaps, posters, and papers is also possible through a corkboard.
Clean edges and square tiles are popular these days. Moreover, you can also use hexagon tiles to create your favourite corkboard wall style.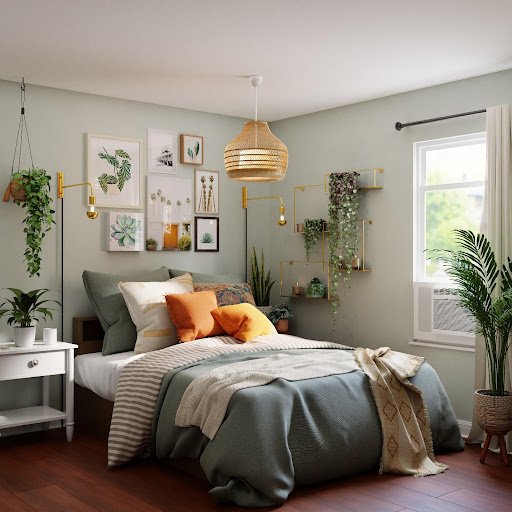 Gallery walls are the ultimate best choice for frame lovers to decorate their bedrooms with aesthetic patterns. You are not bound to create symmetry or the same picture size in frames. You are free to choose any picture, whether your personal photo or any Art for Bedroom.
When your bedroom wall colour is light, try to hang dark shades in your frames. On the other hand, utilize soft colour snaps in the stands if the room wall colour is dark. Further, you are free to pick up any size of frames to hang.
Macrame Wall Style

 
Let us suppose the interior design of your house is boho chic. Macrame is the best suitable for presenting a trendy look to the walls to make this design more efficient. It is a DIY craft prepared by professionals at the ease of Life at home.
Moreover, various materials can be utilized in this style. A combination of several colours and textures also comes into existence in this wall style. Then, you can also choose a small piece or large piece of Macrame that you like most.
Lights work incredibly to present an ambient and festive look to your wall behind the bed. Curtain lights are also best if you love to make your bedroom glowing and shining. You can hang these lights with the curtains of your room. Again, you can turn it on the back wall of the bed.
If you do not like the set-up of curtain lights on the Bed Room Design wall, a recreation of different LED lights is also possible. You can utilize horizontal or vertical arrangements of lights that suit your bedroom room style for hanging.
The bedroom set can be natural and eye-catching with the help of greenish walls. No doubt, green plants enhance the freshness of a person. As a result, if you make your walls green, you can experience a soothing environment.
For achieving this greenery task, you can put several green plants or bushes in the Bed Room Design. Moreover, you can make shelves on the wall. Then, hang or simply put flowing flowers or wrapping plants on the shelf. This setting keeps you healthy by improving air quality and looks fascinating too.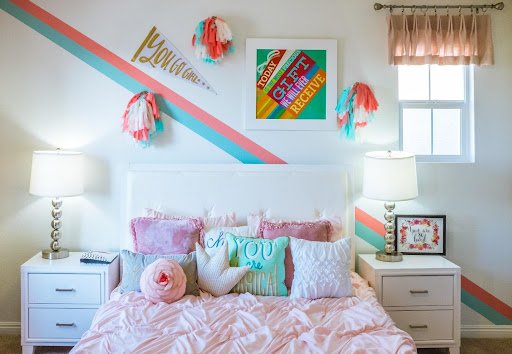 When you have a craze for designing the top of the bed, using headboards is an exciting point to keep in mind. In modern times, people usually adopt this trend to embark an aesthetic look to their bedrooms' back wall in their beautiful houses.
First, you can create a headboard by initiating to stick leaves on the wall by following a specific pattern. Furthermore, you can purchase hanging garlands that maintain the best look to the bedroom with its innovative features. Moreover, some people tend to utilize painting stickers that also work great.
If your bedroom is not spacious, an eclectic wall design is perfect. Sometimes, most people like to hang decoration pieces or show book galleries in their rooms. To accomplish this wish, you can make an eclectic shelve on the wall behind your bed.
In addition, choosing customization adjustable shelves is a wise decision. Then, you can also pick up wood shelves having different sizes that suit your room space. Next, show some best books, a few art designs, and fascinating trinkets for providing perfection to their bedrooms.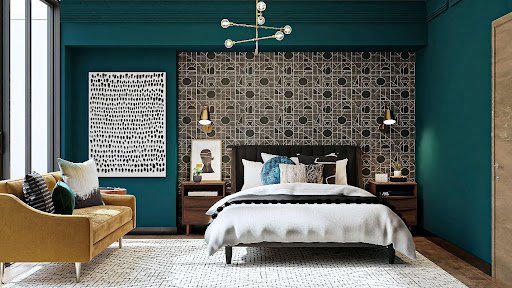 For those who have no time to put much time into designing their Bed Room Design, selecting a giant tapestry for hanging on the bare wall behind the bedroom is always an excellent idea. Whether you choose aesthetic landscapes or stunning textures, tapestry broadens your design instead of wasting huge money on buying art pieces.
Aside from enormous tapestries, small ones are also working very efficiently. If you think it is very simple and need a vintage touch on your room walls, you can hang a fabric with vintage colour or style on the tapestry.
Final Thoughts 
In conclusion, you cannot ignore your bedroom, especially the back bedroom wall, when trying to inspire yourself with creative design ideas for your house. Therefore, we recommend you choose any of the above-presented Design Inspiration for a stylish back wall of your bedroom.
The pro tip is to combine multiple designs to create a unique look in your bedroom. In this way, you will not fail to attract your guests, and they will not go without complimenting your sense of style.
Now it's time to leave and decide on a creative idea to decor the bedroom back wall with a beautiful design. We hope you will design a wall behind your bed very creatively and innovatively by following our instructions. 
READ NEXT:7 Elegant Living Room Design Schemes to Complete Your Home
RELATED TOPICS: kitchen interior decoration