Are you fed up with your dull living room and dull walls? Then it is time to add some excellent Home wall décor to your Living Room Interior Design. Your living place reveals your individuality. Whether you're a traveller, a fashionista, an art collector, or a voracious reader, your living room walls may be used as a canvas. So, let's explore some unique living room wall décor ideas !
Your living room is the area where you want the most relaxed time and want it to look the way that resonates with your thoughts. Living Room Interior Design wall Decor where necessary makes you feel good about the time you spend after a long hectic day.
Unique Living Room Wall Decor Ideas 
Check out these gorgeous contemporary wall decor ideas if you want to transform your ordinary living room walls into outstanding masterpieces. Soon, you'll be living in a stylish house that will make your guests go WOW!
Large Artwork For Modern Wall Décor
Without question, art attracts attention. Allow a massive piece of artwork to be the center point of one of your living room's walls, and bask in its enchantment. Whether you decide on an abstract Contemporary Paintings or a plain and straightforward photograph is totally up to you. In a nutshell, art is a safe choice for inexpensive living room wall decor. 
Shelves May Be Used To Make An Eye-Catching Wall Art
Are you running out of space on the floor for your books? Displaying them on a floating shelf is only natural. Floating bookshelves, like that vanity, provide a unique element to dull walls otherwise. It also provides your house with a more sophisticated and attractive appearance to guests. 
So don't worry if you don't want to install canvas in your living room. Try an eye-catching bookshelf, and you are good to go!
Do you want to make your living room feel more modern and spacious? Place your television on one of the walls to begin. You will not only get ample space, but your wall will also seem polished and free of unused area. You can try this design for a cozy living room with a contemporary touch. You will get a decored wall and an elegant living room side by side!
Hanging Plates Can Be Creative Too!
Why hide your beautiful tableware in a cabinet when you can show it off? Use wire plate hangers to showcase your favorite dishes and serving platters. Besides your new plates, you can also go for your old ones. It's a fantastic method to reuse old plates rather than toss them away. It creates a welcoming atmosphere in your living room. 
It's pretty elegant and serves as a unique way to decorate. Besides utilizing standard wall Wall art for living room, you can also consider using hanging plates to create a single focal point on your wall.
Make Your Living Area Stand Out With Metals
The space is well furnished with a well-stated wall. It helps to tie the tale together by filling in the gaps in the area. Metal Wall art is a terrific finishing touch that can elevate the look of space from practical to polished. Whether you display metal art or Decorating Ideas , you can transform an average living room into something special in minutes. This is a fantastic wall décor ideas to do something special for your living room walls.
Make A More Environmentally Friendly Decision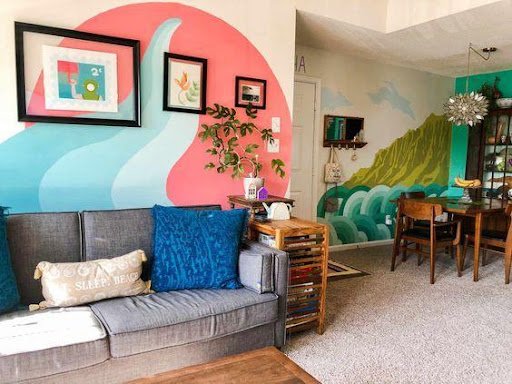 Plants do not need to be kept on the windowsill. Try hanging wall-mounted planters to bring a bit of greenery and wildlife to your walls. If you don't like water, a high-quality fake plant is an excellent substitute (and no one will probably ever be the wiser). 
So, if you are a nature fanatic and want to add a touch of greenery to your living room, you can undoubtedly use this idea. It will refresh your mind and filter the surrounding air.  
Make A Mural For A Pleasant Living Space
Art transports people to another world. On the wall, paint an odd quote or a scene from your favorite movie. A wall covering with unique scenic art is super cool and falls light on the pocket. Both of these ideas will give your living room a fresh lease of life. You can go for this idea to get a dramatic touch in your living room.
Setting The Tone With A Writing Board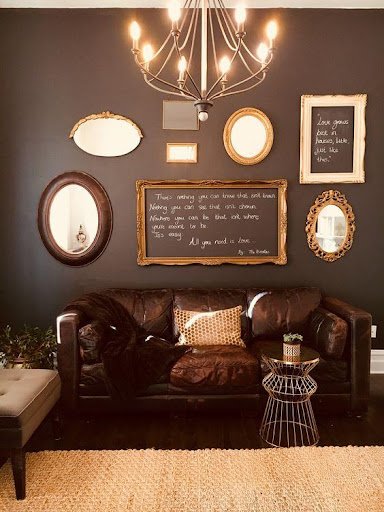 A writing board is an excellent addition to any space to make it more functional. You can add a whiteboard or a blackboard to your living room walls to add creativity to your room. A chalkboard gives a rustic touch to any area, but a whiteboard is a more modern option.
You don't have to go with white; they come in several colors and designs in addition to plain white if you want to take things to look upgraded, paint a whole wall using Write-Wall-Paint, which converts the walls into a writeable surface.
Wrapping It Up!
That's it! I hope you like these highly Unique Living Room wall décor ideas that are budget-friendly as well. But this is not the limit! Gather your thoughts, be imaginative, and start looking for anything that might serve as an excellent foundation for your living room wall décor!
READ NEXT: Basic Decorating Strategies for Bathrooms of all sizes
RELATED TOPICS: Furniture designs
Unique Living Room Wall Decor Ideas On A Budget
Bedroom Wall Decor Ideas to Make the Most of That Blank Space
Striking Wall Decoration Designs Behind the Bed
Interior Design Trends Would Dominate in 2023
5 Reasons To Add Interior Wall Art