Whether you live in a small apartment or a large house interior design matters greatly. It is the only thing that attracts people's attention and makes your home a fascinating place. In modern times Living Room Wall hanging decoration ideas is at its peak.
These days, people tend to hang large paintings, photographs, or sculptures on the wall. Creating a single focal point dares to build a spectacular spot. Moreover, anyone does not need to spend a lot of money purchasing different small objects.
Do you have a house but not furnished? For this purpose, it is crucial to decorate it with several ideas. Carry on reading if you are exploring techniques to present an aesthetic view of living rooms in front of guests.
Wall hanging decoration ideas
Frequently, when you sit in the living room, you see a bog television screen on the wall. However, if you hang a large print with the blending of seamless colours on the wall as an artwork, it draws the attention of various eyes to itself.
The pro tip is that the colours of every poster on the big wall should perfectly contrast to the colour of the wall. For example, you can utilize great canvas painting on the cooler green wall with dark black and pure white. Then hang it in the centre of the wall of the living room.
The combination of various colours always looks gorgeous. For example, green, blue, red, and yellow present an aesthetic style if we adopt it while choosing furniture. For example, you can purchase colourful chairs for placing them in the living room.
Moreover, if you are not willing for colourful furniture, you can go for one colour sofa. Then, put different colour cushions on the couch. It will surely change the rough look to the fascinating living style sofa, and everyone will admire your sense of style after seeing it.  
Minimalist Design Inspiration is the simplest for the living room. You do not need to create a mess by putting in several Home Décor Ideas. However, you place minor objects such as a small sofa or table in the Living Room Interior design without additional accessories.
In addition, you need to make the living room floor neutral and solid. Do not mix marble tiles with multiple designs because it looks not elegant. Furthermore, you can hang some beautiful sceneries in a harmonic order.
Commonly, people love to put a small frame of their pictures on the side table in the bedroom. But, now, the trend has shifted towards a big photographic poster hanging on the living room wall. Like all other styles, the sofa is compulsory.
However, the speciality of this style is that you can create a full Abstract Paintings
o. Then, give a particular colour that looks vibrant on the wall. Moreover, you can place stunning photographs of different celebrities or your favourite personalities if you love them. Make sure to put them in the right direction. Otherwise, their fancy will never remain.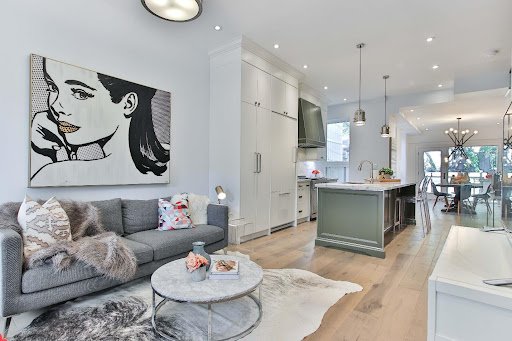 Metal-Centred Living Room 
In this contemporary era, the trend of metal objects is at its peak. Whether you visit a bedroom or living room, you will see a metal object placed there. Therefore, you can also create this look in your living room after some changes.
For example, you can pick a shiny metal table. Then, choose other furniture like sofas according to the colour of the metal tables. Make sure to put some decoration pieces on the metal table because they will enhance the beauty of the living room design.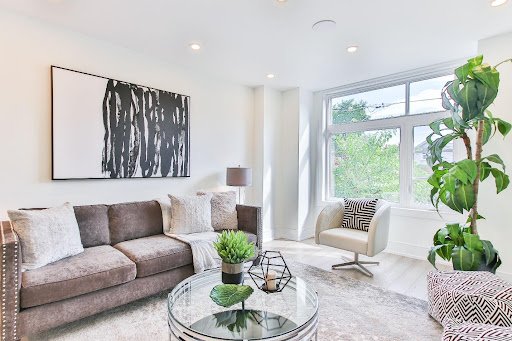 No doubt, greenery keeps a person refreshed. As a result, choosing a green theme for your living room is the right decision. First of all, you have to buy furniture in a dark green colour. However, make sure that your living room wall colour is light.
In addition, place different plants or shrubs in the living room. However, buy plants that require low maintenance. Then, keep a plant in a particular place where it can receive enough shine that helps it grow. Moreover, you can put a big scenery having natural landscapes on the living room wall.
Generally, people follow some practices that are popular in their contemporary era. The same case applies to the current generation because they cannot place anything in their houses that are out of fashion or not looking attractive.
Geometric patterns are trendy to follow for your living style. Sofas and tables are mostly in a square or rectangular shape. Moreover, you can hang a big poster in any geometric condition on a living room wall. Moreover, do not forget to select suitable colours for every object like a sofa or table.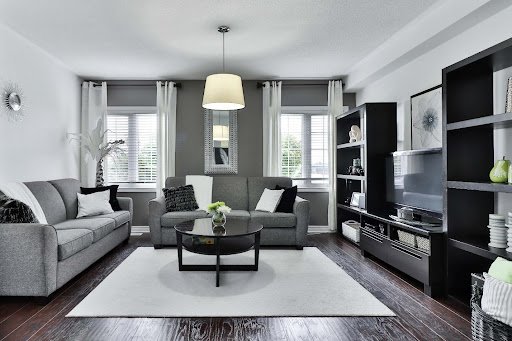 The contrast of grey with sark black and white is lovely. You can select these colours to choose the colour scheme of your living room design. For example, buy furniture like couches or tables with grey shades.
Further, you can give a minor golden touch to some furniture objects. Then, choose black and white artwork and hang it on the backside of the coaches. For this purpose, you can select different posters having diverse sizes. Then place it in a uniform order or random that you like.
Summing Up 
In conclusion, it is not a wrong point that room design varies according to the sense of style of every person. For example, someone like chic and others love minimalist design. Then, they adopt a particular living room style according to their taste.
We have covered the top 8 ideas to decorate a living room aesthetically in this post. Now you can select anyone for your space. In addition, you can combine various styles that you think are suitable for your living place.
Now it's time to go off and purchase particular stylish objects for decorating living space. If you face any difficulty, you can contact a modern interior design company, and they will give the best piece of advice to you.
READ NEXT: Decorating In The Art Deco Style
RELATED TOPICS: Wall art for living room
Unique Living Room Wall Decor Ideas On A Budget
Bedroom Wall Decor Ideas to Make the Most of That Blank Space
Striking Wall Decoration Designs Behind the Bed
Interior Design Trends Would Dominate in 2023
5 Reasons To Add Interior Wall Art